Tavakoly Medical Treatments in the press and patient reviews
Patient reviews
I had problems in my feet for at least half a year before I came to Mohsen for the first time. Now these problems are gone and with the help of the treatment I got together with the exercises for making my muscles stronger I now live without any pain. I am very satisfied with the treatment I received from Mohsen and his availability. And when an acute visit was needed he has always been able to make that happen! Mohsen is a warm and thoughtful physical therapist with a wide range of knowledge which he uses through several treatment methods and he takes care of this patients as if they were his family. Besides the actual treatment he gives good advise and guides through his wide professional network to masseuses, chyropractors etc who can give even more help in areas that are not covered by physical therapy. I give Mohsen without any doubt a full "10 out of 10" and I recommend to everyone I know who has som form of physiological ailments to go to him and to recommend him to everyone the in their turn know. He can really help you!
Woman, 53
I have been a patient of Mohsen Tavakoly on several occasions. He has always been helpful in alleviating my pain. He identifies the problem quickly and applies a treatment. Additionally, he recommends exercises that I can do on my own. I would strongly recommend him to anyone who needs a physical therapist.
A.K, PhD.
During about a year I have had increasing pain and, during the last months before I looked for help, a lot of pain in my shoulder which has been seriously worn down. After about 3 months of treatment I have not at all as much pain and now have a much better mobility in my shoulder and arm. I have received good help and good advice about which types of training I should do, but also should avouid. Today I feel much more hopefull and much stronger in both my body and soul.
Charlotta
For 3 years I have had my discomfort before I incidentally came to Mohsen. No one else had been able to help me with the heavy cramps I had in my legs. The sensitivity in my legs had decreased and my whole back hurt constantly. One day I came to Mohsen after I dislocated my shoulder at the gym and after just a few minutes he had it back in place again, without any complications. Because of my illness SLE I am in constant need of help with relieving general pain in my joints and the methods that Mohsen uses on all my grievances work like a dream. Now I have better sensitivity in my legs, just a little cramp now and then, and no longer constant pain in my back. The rehabilitation will have to go on for a bit longer still, so I will have to be patient, but Mohsen is a wonderful personwho loves his job and loves to help those who need it. I have recommended him to all my friends who have a wide range of discomfort, and they have been very pleased and thankfull that they finally got help.
Patient (male)
For almost four years I have had problems with my left foot, specifically with the big toe. It has gotten much better after Mohsens treatment and I don't feel as much pain anymore. I am very content with the treatment and with the way Mohsen responds to my needs. I warmly recommend Tavakoly Medical Treatment and Mohsen himself to others who seek help with their physical problems.
Stig
When I came to Mohsen Tavakoly for the first time I had lived with pain in one of my hips for more than a year, and I had nearly given up hope for the possibility of relief or a cure. I had been to two other physical therapists before, as well as several acupuncturists. One of them blamed it on me being stiff, while another told me I had no muscles at all and left things as they were. During two weeks of intensive treatment, every other day, so I could make it in time to fly back home to the USA, Mohsen treated me with enormous knowledge, ambition and productivity. After our visits were over I had gotten such a strong will and fighter spirit to become healthy again that I started and did my exercises myself and got completely cured after only two weeks. I hope that everyone could be taken care of as I was by Mohsen and could be treated by a professional physical therapist that doesn't only treat you as an individual, but also with a strong will which makes you really take charge of your own destiny and health.
Thank you so much!
Tua-Lisa Runsten
Before I came to Mohsen I had pain in my lower back for about 2 - 3 years. My doctor revered me to a physical therapist at FeelGood. I went there for several months but never actually got treated. Instead they gave some exercises I had to do at home. After a year of doing these exercises every morning and evening my problems didn't let up so I went back to my doctor and got revered to take an MRI. After the MRI I got revered to an orthopedic surgeon who told me it would be best to find a good physical therapist since an operation would not be the right thing for me at this point. By coincidence I came in contact with Mohsen.
I have now undergone treatment with Mohsen for about a year. During this time I have gotten so much better because of several kinds of treatments and exercises. Some times the treatments have been more frequent depending on the problems.
I am very happy with the treatments since they have been adapted to my needs. The results have been very good since I am now able to sit, stand and move much better without any pains or discomfort.
I am very satisfied with Mohsens treatments which are both professional and kind.
I have always thought Mohsen was very engaged in me as a patient. He has always taken the time to listen and give the right advice about what I should think of on the road to recovery. I will take every chance I get to recommend Tavakoly Medical Treatments to colleagues, acquaintances and friends.
Marianne, 64
I will try to give a succinct review of my experiences as a patient of Mohsen.
To have pain is very relative and when you live an active life with training, work and other activities you will often experience "natural" pain like for example sore muscles, stiffness after a long drive or long days at the office etc, you get used to the discomfort! I have always felt I was in relatively good shape, but I still have had more or less constant pain in my neck and shoulder which I had gotten used to.
When I got acute back problems during my preparations for my sixth Vätternrunda, I realized I needed to get help. I have always been little sceptic about osteopaths and chiropractors, who often after a number of treatments assess that "it doesn't get any better" and "you should come by every third month". By chance I came in contact with Mohsen Tavakoly. He has given me a whole new outlook on physical therapy. After only a few weeks he got rid of my back pains and began right after treating my right shoulder. I had given up hope of relieve after about 25 years of problems. With Mohsens wide knowledge of the bodys functions and his wide range of treatments the movement in my shoulder was almost completely restored.
When my my 3 year old hernia (documented after MRI in 2011) acted up and gave severe pains and became an acute problem, I got deep understanding of the problem. This, together with the great results make it so that I truly can recommend Mohsen to everyone - no matter the discomfort!
Ola, 54
Tavakoly Medical Treatment in the press
Rose of the week (Veckans ros)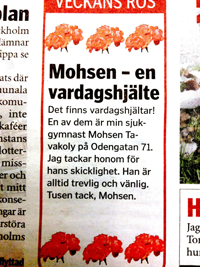 "Mohsen - a every-day hero
There are every-day heros! One of them is my physical therapist Mohsen Tavakoly at Surbrunnsgatan 66. I want to thank him for his expertise. He is always nice and friendly.
Thank you so much Mohsen."
Published by: Vi i Vasastan - 24 november 2012
Hero of the week (Veckans hjälte)
"Hero of the week is physical therapist Mohsen Tavakoly who believed in me when I told him about the pain in my leg. I thought I was going to die. There are still people who do more than duty requires. Thank you!"
Published by: Mitt i Vasastan - 4 december 2012